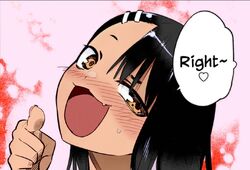 Nagatoro Wiki's
Help Guide
Basic editing:
Guidelines and Policies:
General Information
When you use the chat, you agree not to:
Harass/bully any other members of the Wiki
Ship war or break other rules found in the policies (if this page doesn't somehow say otherwise, the rule on the policies applies, otherwise the one on here does)
Post links with explicit content
Impersonate any other person
Ask for personal information (address, password, etc.) for a person and do not stop after a clear no.
Use explicit language (the censoring does not make it allowed) in ANY WAY. After the first time of cussing a warning is going to get given, after the second time a kickban.
Spam
Community content is available under
CC-BY-SA
unless otherwise noted.