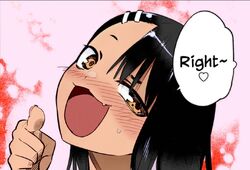 Nagatoro Wiki's
Help Guide
Basic editing:
Guidelines and Policies:
General Information
Every user has the right and permission to upload an image.
When uploading raw manga images, text-removing is not required. However, images must be of a high quality.
Images must have a suitable name/title which clearly depicts what it displays.
If you have any concerns regarding images, please feel free to contact the wiki's admin, Oilgof.
Duplicated images will be deleted. Always check whether the pictures have already been uploaded. You can try using Special:FileDuplicateSearch.
Only official images are allowed. Fanart and etc. will be deleted unless special permission is issued by the admins.
All images must/should relate to the series, Don't Toy With Me, Miss Nagatoro.
Community content is available under
CC-BY-SA
unless otherwise noted.